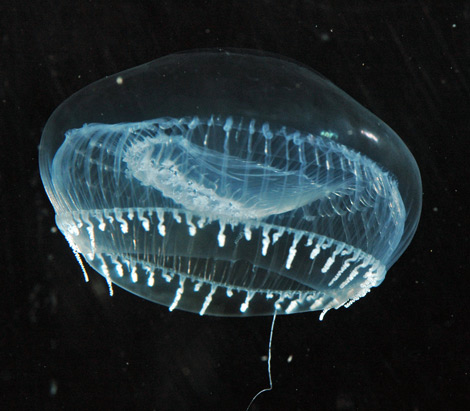 Swedish researchers are making photovoltaic technology come alive – literally. Zackary Chiragwandi and his colleagues at Chalmers University of Technology have found a way to create cheaper solar cells using special proteins harvested from bioluminescent jellyfish.
These glowing proteins, known as green florescent proteins (GFP), are inserted between two aluminum electrodes, where they form strands connecting the two plates. When exposed to UV light, the GFP generates current by absorbing photons and emitting electrons.
So why look to jellyfish for the future of solar cells? For one, these creatures are currently overpopulating some areas of the ocean, so they are not in short supply. Second, GFP could ultimately make for a wider variety of solar cells, including ones that work at the nano scale, and even those that can produce their own source of light.
Image: Sierra Blakely/Wikipedia
eGFI – Student Blog � Solar Cells from Bioluminescent Jellyfish